Reserve online
Hotel Sirena Rimini
and save with our discounted rates
CURRENCY: U.S. dollar USD

Euro (EUR)

Pound sterling (GBP)

U.S. dollar (USD)

Canadian Dollar (CAD)

Swiss Franc (CHF)

Yen (JPY)

Australian Dollar (AUD)

Yuan (CNY)

Rouble (RUB)

Rupee (INR)

Czech Koruna (CZK)

Norwegian Krone (NOK)

Danish Krone (DKK)

UAE Dirham (AED)

Brazilian Real (BRL)

Hong Kong Dollar (HKD)

Jordanian Dinar (JOD)

Malaysian Ringgit (MYR)

New Zealand Dollar (NZD)

Omani Rial (OMR)

Kina (PGK)

Romanian New Leu (RON)

Saudi Riyal (SAR)

Swedish Krona (SEK)

Singapore Dollar (SGD)

Thai Baht (THB)

CFP Franc (XPF)

South African Rand (ZAR)

Moroccan Dirham (MAD)

Argentine Peso (ARS)

Taiwan Dollar (TWD)

Kuwaiti Dinar (KWD)

Bahraini Dinar (BHD)

Icelandic Krona (ISK)

Philippine Peso (PHP)

Bermudian Dollar (BMD)

Paraguaian Guarani (PYG)

Brunei Dollar (BND)

Polish Zloty (PLN)

Shekel (ILS)

Mexican Peso (MXN)

Fiji dollar (FJD)

Qatari Riyal (QAR)

Kazakhstan Tenge (KZT)

Belarusian Ruble (BYN)

Namibian Dollar (NAD)

Uzbekistani Som (UZS)

Dobra (STN)

Honduran Lempira (HNL)

Malagasy Ariary (MGA)

Convertible Mark (BAM)

Indonesian Rupiah (IDR)

Colombian Peso (COP)

Tunisian Dinar (TND)

Turkish Lira (TRY)

Vietnamese Dong (VND)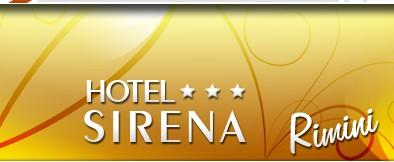 The Sirena Hotel is located in Rimini Miramare, in the city center in a very long tree-lined pedestrian street, surrounded by shops, cafes and restaurants, where to make the avenue lively and busy.
And 'far from the sea about 100 meters, where there are bathrooms agreement for our clients.

It 'a family-run hotel has a free parking structure, restaurant with possibility to book rates in half board and full board.

Point of reference for all those who choose to spend their holidays in the beautiful Riviera banner of absolute freedom, fun or just relax.

The strategic location of the hotel will allow you to move independently to reach the most famous places of attraction, from amusement parks to discover the real Romagna in San Marino and many other attractions, festivals and events.

Give us your Feedback
Hotel Sirena, Viale Oliveti, 103 - Rimini